Smoked Turkey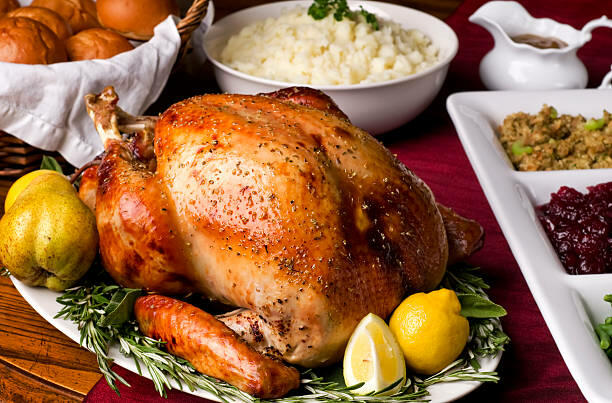 Needed:
-Low and slow smoker preferably electric.
-Apple wood CHUNKS. Not dust, not pellet, not chips. (Available at most stores that sell bare Bruce stuff)
 -Turkey or turkey breast-bone in.
 -Turkey rub. (Recipe below)
-Two sprigs of celery cut into 6" pieces.
-Carrots, cut into two 6" pieces.
-Aromatic herbs like Rosemary, Thyme, Marjoram, and Sage.
-Aromatic fruit like Lemmon, orange, or apple.
Instructions:
Soak 3-6 chunks in water over night.
Completely thaw turkey. Rub liberally with turkey rub all over, including the cavity with turkey rub. Cover or wrap with aluminum foil, place on a pan that can hold any rendered liquid, and let stand overnight. Save the juice for your gravy.
Get your smoker going, place about 3 of the chucks in and around the burner, NOT ON the burner. Make sure there is plenty of liquid in the smoker basin, (broth, beer, apple juice, whatever). Put Aromatic herbs in the cavity of the turkey followed by the celery, carrot, and fruit. Place turkey breast down, on the lower smoker rack, close the smoker and smoke 4-6 hours until internal temperature is 155-165 degrees.
When finished, let rest for 1-2 hours. DON'T SKIP THIS STEP!
Bone the breast off the breastbone and cut into sandwich-sized slices and serve.   
Turkey Rub
3 1/2 tablespoons kosher salt
1 1/2 teaspoons rubbed sage.
1 1/2 teaspoons dried thyme
1 1/4 teaspoons whole black peppercorns
1/2 teaspoon whole allspice berries
Place all ingredients in a food processor and grind to a fine pow